Water Blasting Costly Misconceptions
Waterblasting Misconception #1 – It's Easy, Therefore I Can Do It Myself.
Kiwi's are famous for their can-do attitude and willingness to give anything a try so while the statement, 'water blasting is easy,' may be true to a certain extent, it is also very true that you can easily cause severe damage to yourself and your home if you are not careful.
Operating a water blasting machine from a ladder is not something I would recommend to anyone as it can be very dangerous and should be left to a professional.
Waterblasting the weatherboards on your home from the ground at an upward angle can force water into the wall cavity causing costly water damage.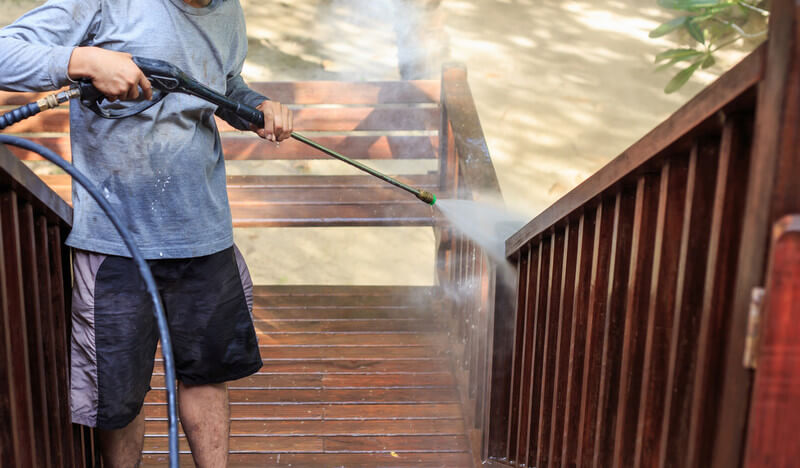 Weatherboards should be washed at a flatter angle and often the only way to achieve this is to raise yourself off the ground. This needs to be done with the proper equipment. Another thing you should consider is that even the smallest domestic grade water blasting units put out too much pressure to safely wash many of the building materials used in New Zealand homes. Having the right equipment, knowledge, and skill allows you to achieve the desired outcome without causing damage.
Waterblasting Misconception #2 – Pressure Is Needed To Get It Clean.
Nothing could be further from the truth. Using high pressure can cause a lot of damage to your home by forcing water into wall cavities causing potential mold and mildew problems. High pressure can also damage the mortar in brickwork and blow out rubber seals in Aluminium Joinery.
Wood is another area that often catches homeowners out when they try water blasting themselves. Wood is a lot softer than you might think and using too much pressure to wash decking can cut into the wood leaving unsightly marks and scars.
The image on the right shows exactly what can happen when an inexperienced operator gets involved in water blasting a wooden deck. No-one wants to come home to that type of damage.
It's not only timber either, using too much pressure on decromastic roof tiles and textured shingles is a huge mistake. Excessive pressure can strip granules off these roofing products, reducing the longevity of your roof. Quality water blasting contractors will know exactly how best to clean and protect your roof.
Waterblasting Misconception #3 – Cleaning Products Will Damage Plants and Hurt Pets.
Waterblasting has a come a long way in the past 10 years and with the growing concerns over environmental issues.
Most quality contractors use only environmentally safe products that will not harm your pets.
We have gone one step further and all our products are 100% safe for all plants, pets and people.
If you are attempting your own water blasting projects and you do not have access to commercial grade, environmentally safe products then one thing you can do is to wet down all plants close to your project, before, during and after the cleaning process.
As long as the cleaners you use are not allowed to dry on the plant foliage, there should be no significant damage.
Each of these homes poses their own challenges for any water blasting company. Many of the challenges can not be identified until you are actually on-site. This is the main reason we will not provide quotes over the phone
It would certainly be easier to provide a quick quote over the phone but, it could lead to nasty surprises for both the homeowner and the contractor.
Reputable House Washing companies never give quotes without first physically visiting the property. Most companies charge by a combination of time required to achieve the desired result and the overall size of the property. There are too many variables that can impact the price from one property to another.
For instance, different types of terrain or landscaping can affect the price. Type of building materials, the condition of the decking timber, pitch of the roof, level of dirt, all of these things have to be taken into consideration. Access to an adequate water supply is also a major consideration. It might sound funny but we have actually turned up to a job where even though there was an external tap clearly visible, the pipes had been disconnected and the job could not proceed until a plumber reconnected the pipes.
The good news is, once we have visited your property, we are able to provide a comprehensive quote detailing exactly what will be required and how long it will take to complete the required water blasting project.
Once the quote has been provided and discussed, you know that that is the price you will pay and there will not be any last minute surprises for either party.
These are probably the most common misconceptions that we come across within the House Washing and General Waterblasting industry and if not considered seriously prior to hiring a company or contractor, then it could prove costly in the long term.
We have provided this information to help you make an informed decision next time you need to hire a contractor.
What Our Clients Say About Us
Ready To Finally Get That Cleaning Job Done? 
Get A Free No Obligation Quote