AWL House Washing performs all types of exterior house washing and general water blasting services throughout the greater Auckland area. To properly wash your house and maintain it's appearance we focus on quality NOT quantity and our attention to detail is second to none.
For most properties, we recommend our three stage process.
Step One:
First, we wet down the area to be washed, section by section, to soften any dirt and grime that has built up over time.
Step Two:
We then apply our biodegradable CITRUS detergent, (safe for all plants, people, and pets) to the previously prepared area and allow to work for just a few minutes before continuing on with the process.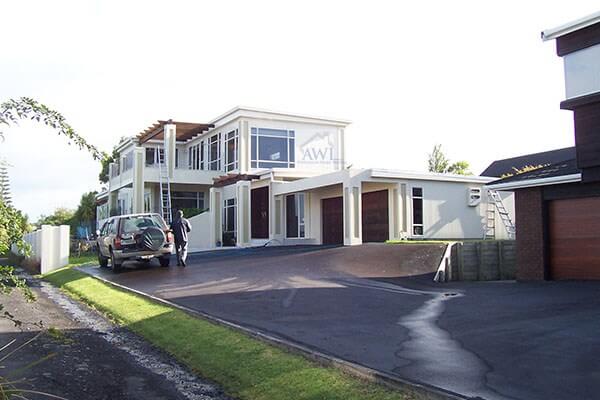 Step Three:
The final step is where the magic happens. The entire area is then washed using Low-Pressure and wide-span nozzles. Stubborn to remove dirt, grease, and grime is then scrubbed with soft bristle house washing brooms to ensure a perfect result.
Everything from the top of the gutters to the ground gets washed, including the windows.
3 Major Reasons Why Exterior House Washing Is The Best Way To Keep Your Home Clean and Free from Mold & Mildew
AESTHETICS:
Aside from the fact that everyone likes to own and live in a house that is a pleasure to come home to cause it looks fresh and well kept but it also has a financial reward attached. A home that is free from unsightly staining, slimy blemishes, and moldy odors is far easier to sell than one that has been left to the elements.
A good first impression resulting from regular maintenance can add as much as 5 to 10 percent to the value of your home.
Should you decide to rent out the property, as an investment, house washing and cleaning up paths, and surrounding areas not only gets rid of those unsightly stains and moldy odors, it also sends a clear message to the prospective tenant that you take pride in your property and expect them to do the same. It will also help you to gain a better class of tenant.
STRUCTURAL:
Mold and mildew will eventually destroy the parts of your house it grows on if left unattended. While it is true that mold is a good thing because it breaks down organic material into the soil, which nurtures new growth, there are places that you don NOT want this organism to grow. There are certain types of mold that will destroy anything they grow on.
For this reason, you need to remove outdoor mold growing in any of these locations;
Brick Patios and Courtyards
Paths and Driveways
Any Concrete exteriors to your home
Decks
Fences and Gates
Grouting
Roofs
And especially timber weatherboards
Mold and Mildew grow very fast and can enter your home through open doorways, windows, vents, heating and air conditioning systems, or by attaching to clothing, shoes, and pets. Once inside your home, mold can grow and multiply fast especially in areas that are warm and moist.
HEALTH:
Mold and mildew left to grow inside your home will affect the air quality and can create ill health effects for many people. Exposure to moldy environments can lead to;
Nasal stuffiness
Throat irritation, coughing or wheezing
Eye irritations
Skin irritations
and prolonged exposure can even lead to lung infections.
Exterior House Washing will efficiently remove Mold commonly found on brick homes.
We realise that house washing can be personal in nature.  As such, we treat your home with as much care and respect as our own and because our total focus is on quality NOT quantity you will be blown away with the results of our house washing.
So get started TODAY by calling us at the number at the top of this page or simply click here for a FREE, no obligation quote! We'll respond immediately to arrange a suitable time to either meet you on site or visit your property to estimate the investment and timing for your particular job.
What Our Clients Say About Us
Ready To Finally Get That Cleaning Job Done? 
Get A Free No Obligation Quote